Spending a day touring and wine tasting in Temecula can be very enjoyable, especially if you visit the best Temecula wineries. Some Temecula wine lives down to its poor reputation, but the best of it is very good and can make for an enjoyable day of winetasting.
The weather in Temecula for wine tasting is generally sunny without being too warm. The exception is during the summer months, when the weather can get rather hot and the folliage has turned brown. The optimal season to enjoy the best Temecula wine is April and May, or even a sunny day in March. At this time the weather is pleasant and the vines and surrounding folliage are still fairly green.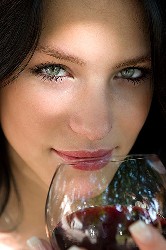 Temecula wineries are quite convenient to reach from anywhere in S. Calif. Temecula is about an hour north of San Diego along the I-15 and about two hours east of L.A a half hour south of the I-10. A downside to this proximity is that Temecula wineries have gotten quite crowded on weekends.
Along with this has been their ability to mark up wines, sometimes to prices at which they'd never sell in Napa, Sonoma or Paso Robles.
Temecula's warm, sunny climate is well-suited for growing wine from varietals that like a lot of warm growing days. An increasing amount of Zinfandel is grown in the region. Some wineries still offer cold-weather varietals such as Sauvignon Blanc and Pinot Noir, but it's unlikely they'll be very good.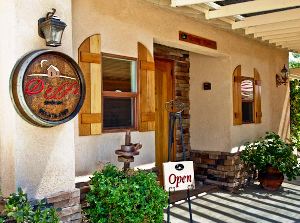 All those saying Temecula doesn't make great wine need to visit Doffo Winery. Doffo is a small new winery toward the east end of Temecula. They have a small, reasonably pleasant tasting room shown to the left here. The best of their reds compete comfortably with the better wines coming from Northern California. Their prices are high, and just because they sell out doesn't mean the wine is a bargain. But this is a good tasting stop and a great place to end any anti-Temecula bias.
Some of the better wine in Temecula (admittedly not a high bar) comes from one of the newer wineries, Robert Renzoni. Solid quality and consistent value for their price points. Their tasting room is a windowless warehouse, but it's still a worthwhile stop.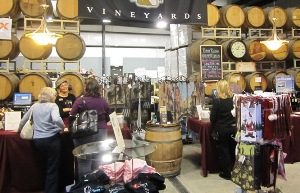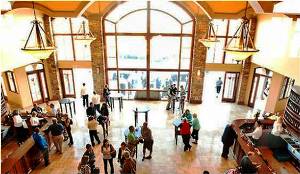 Monte de Oro is one of the newer tasting rooms and a delightful facility. It's set up on a hill with an expansive view from their large patio. They have a big tasting room, shown here. Their wines are good by Temecula standards and reasonably priced. They do a nice job with their Zinfandel.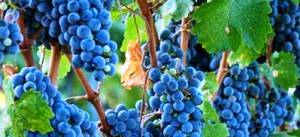 Stuart Cellars also makes some of the best Temecula wine, perhaps second to only Doffo in the region. However, their tasting room is a bit cramped and has only a couple windows. They have a pretty lawn with a great view, and they have a reasonably priced lunch menu.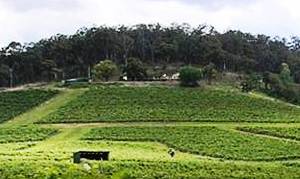 Mount Palomar Winery is another good option among Temecula wineries. They are known for their Syrah as well as wines made with Tuscan varietals such as Sangiovese. The folliage is a bit more sparce there, particularly in the summer, but their patio is pleasant. (Remember that it does get hot in Temecula wine country in the summer months, so dress accordingly.) The Mount Palomar tasting room has a warehouse feel and is a bit non-descript. But the wines are good and this is a worthwhile stop while winetasting in Temecula.
Falkner Winery is one of the better Temecula wineries. Among the varietals they do well are Nebbiolo, Sangiovese, Cabernet Sauvignon and Merlot. Falkner's nicely landscaped lawn is a great place for picnic. Their lawn is set on a hilltop which provides a nice view of the surrounding valley, though often special events take this space.